| | |
| --- | --- |
| Botanical Name | Citrullus lanatus |
| Plant Type | Vegetable |
| Family | Cucubitaceae |
| Time to Plant | Until frost passed |
| Soil Type | Loamy |
| Soil Condition | Fertile and well-drained |
| Soil PH | 6 to 6.8 |
| Sun Exposure | Direct sunlight |
| Temperature | 70 degrees on seeds planting |
| Water Supply | 1 to 2 inches of water/week |
| Organic Fertilizers | Add compost |
| Compound Fertilizers | If required |
| Used In | Raw eating, juice & cake |
Watermelon share the same family with cucumbers, melons and pumpkin which is known as cucubitaceae. In this guide you will learn brief and compendious facts about growing watermelon. What are the fundamental requirements for growing watermelon? When to plant watermelon? How to grow watermelon or to plant watermelon seeds? How watermelon plants care take place? Whole mechanism of when and how to harvest watermelon?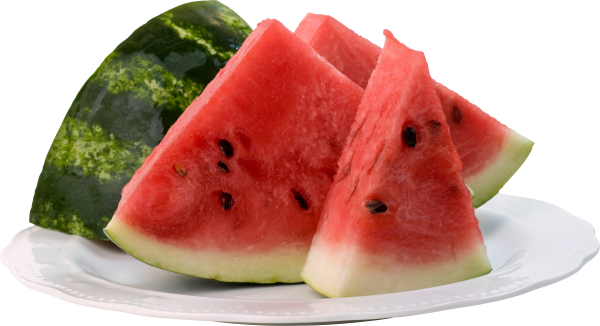 Watermelon is one of the most scrumptious and refreshing palatable fruit. Watermelon is served everywhere either in backyard parties or picnics. Do you know your most favorite warm weather fruit is packed with healthy benefits? Let's now take a bird eye view on several advantage of this nature's gift of mankind.
Benefits of watermelon
According to the World Health Organization (WHO) statistics of 2016, cause of 31% of all global deaths is just because of cardiovascular diseases (a heart disease). Divine made the watermelon to the remedy of this atrocious disease. When you consume watermelon, your kidneys convert watermelon into an amino acid known as L-citrulline which take part an active role to fight against diabetes. Watermelon diminishes the severity and frequency of asthma attack. Good news for all those gents who have hair losing problem, watermelon keep your hair strong and repair the skin as well.
Now you are familiar with the advantages of planting watermelon. If you want to have your own watermelon plant into your garden then we are expressing complete details of planting watermelon for you. You will learn how to grow watermelon?
Types of watermelon
There are various varieties of watermelon that you would love to grow into your garden. All types of watermelon are thirst quenching and mouth-watering having sugary flesh covered by solid rind. Size varies among watermelon from little small pounders to a giants 80 plus pounds. Watermelon comes into market in 4 basic types.
Firstly, seedless watermelons contains minute underdeveloped seeds. Queen of heart and Trio are the example of seedless watermelon. Secondly, picnic watermelons are traditional round melons having 16 to 45 pounds weight, and sweet red flesh covered by dark green rind. Charleston gray and jubilee are the example of picnic watermelon. Thirdly, icebox watermelons are tiny melons bred for just one person or a small family. Sugar baby and tiger baby are the example of icebox watermelon. Lastly, yellow/ orange watermelons have yellow or orange flesh usually covered in round rind. Desert king and yellow baby are the example of this category. Select any type that suit you most for growing watermelon.
Requirements for growing watermelon
To acquire best production, you must learn about the appropriate requirements for planting watermelon. If you grow watermelon in the season which meet the best requirements needed for growing watermelon then your yield will be perfect.
First you should decide either you want to grow watermelon by seeds or transplant it by utilizing watermelon sprout. Plant watermelon seeds where temperature should be over 70 degrees. Grow watermelon on the place where it can directly take sun light. It requires at least 6 hours of sun every day. You should allot 4 by 6 foot plot to every watermelon plant and you can reduce it if you are planting mini-watermelon plants.
Watermelons love loamy, well-drained and fertile soil. A way that is use to know about well-drained soil is puddles. If you see puddles after heavy rain fall, its mean your soil is not well-drained. Add compost into the soil to further enrich it. Watermelons grow ideally on the soil with pH 6 to 6.8.
When to plant watermelon
If the climate is warmer then planting watermelon outdoor is much better for mature growth. However, you should wait until soil temperature raised up to 70 degree at least. By doing so, it will improve germination process. Vines of watermelon are really tender. So wait to transplant until frost passed. But it's much better to wait further two weeks for better germination. For cooler region, sow seeds indoors almost one month before transplanting them outdoor.
How to grow watermelon
Till this time, you have learnt numerous advantages of this beneficial plant and several varieties in watermelon. After having all this useful knowledge, let's move toward one of the main point that how to grow watermelon? You can grow watermelon by seed as well so you will learn how to plant watermelon seeds as well?
Take watermelon seeds or watermelon sprout from nurseries easily approachable for you.
Prepare your soil such as that soil should be loamy, fertile and well-drained.
Add compost into the soil for further improvement of the soil.
Try to manage pH from 6 to 6.8.
Try to choose that place where they can hold sun light up to 6 hours.
During transplantation of watermelon sprout, grow them on the hill (raised row).
If you are planting watermelons on the 5 foot wide hills then keep them apart at least 2 foot.
If you are growing watermelons in rows, then keep them apart 6 by 6 from each other.
Keep the soil moist but try to avoid waterlogged.
Watering is very important as name of watermelon speaking loudly. Keep watering regularly from planting to harvesting watermelon.
Water melon require 1 to 2 inches of water per week.
Normal type of watermelon will take at least 75 days for mature growth.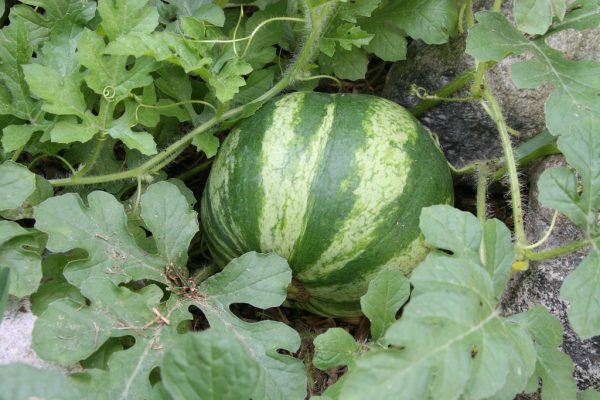 Watermelon plants care
Care is very necessary part after growing watermelon. If you don't care, you will not have healthy and mature watermelons. Take the following steps for caring:
When fertilizing, make sure to provide more nitrogen than potassium and phosphorus till flowering start. When flowering start reduce the nitrogen.
Be kind to bees, these will help to improve pollination.
Try to protect them from rotting by just placing straws between watermelon and soil.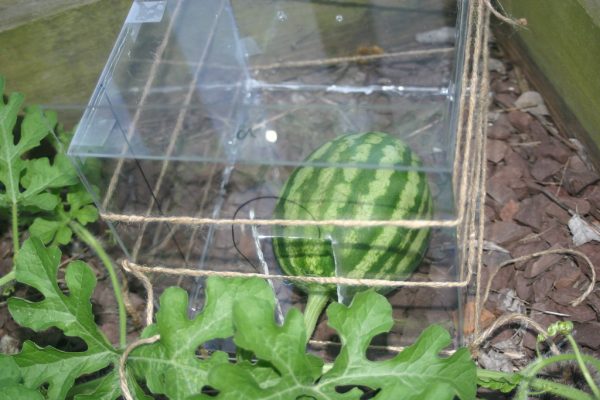 When to harvest watermelon
After picking, these will not be sweeten. So the time of harvesting watermelon is very important. After complete growth, these take over two weeks for ripening. You can also check the ripening time by just thumbing on it, if sound is hollow, its mean watermelon is ripened. Don't let them uncut for even 10 days after ripening.
How to harvest watermelons
It's time to harvest watermelon. Take a sharp knife and cut it close to the fruit. Never try to pull watermelon for cutting. It will break vines. You can store watermelon for few days.